More Than Savory, More Than Sweet
"Confection Perfection". That's the motto of SouthernVet Sweets owner Jason Autry, whose confectionary creations have quickly become all the craze here in Georgia and beyond. As a Georgia native, Jason's love for his home state shows up in much of what he does, and it was that Georgian pride that drew him to Richland Rum. It was nearly four years ago when Jason first came across a bottle of Richland Rum and knew that he had to try at least a sip or two, and he was certainly glad that he did:
"From the rip I could tell how much dedication they [Richland Rum] put into their product, how authentic it is. The fact that it is the only rum made in Georgia just made it that much more special."
Jason is also dedicated to authenticity in everything he does, so a while back when he was entertaining the idea of starting SouthernVet Sweets and was trying out new recipes, the thought of Richland Rum returned to him. Rum, and particularly Richland Rum, is a great spirit to use for candied pecan recipes because it pairs well with one of Jason's other favorite ingredients: cinnamon. But beyond the flavor pairing, and in addition to Jason being a self-proclaimed "rum fanatic", it was his experiences and interactions with the people at Richland Rum that Jason remembers most fondly, saying that:
"The way everyone treated me was so nice, from the first email I sent to Karin, to the way the Brunswick team treated me when I drove from Atlanta to Brunswick to give them a bag of Cinnamon Rum pecans, and I think all of that makes for a tastier product somehow. There are a lot of other rums that I could use, but Richland Rum is just much more unique compared to other products and I don't see myself using any other rum."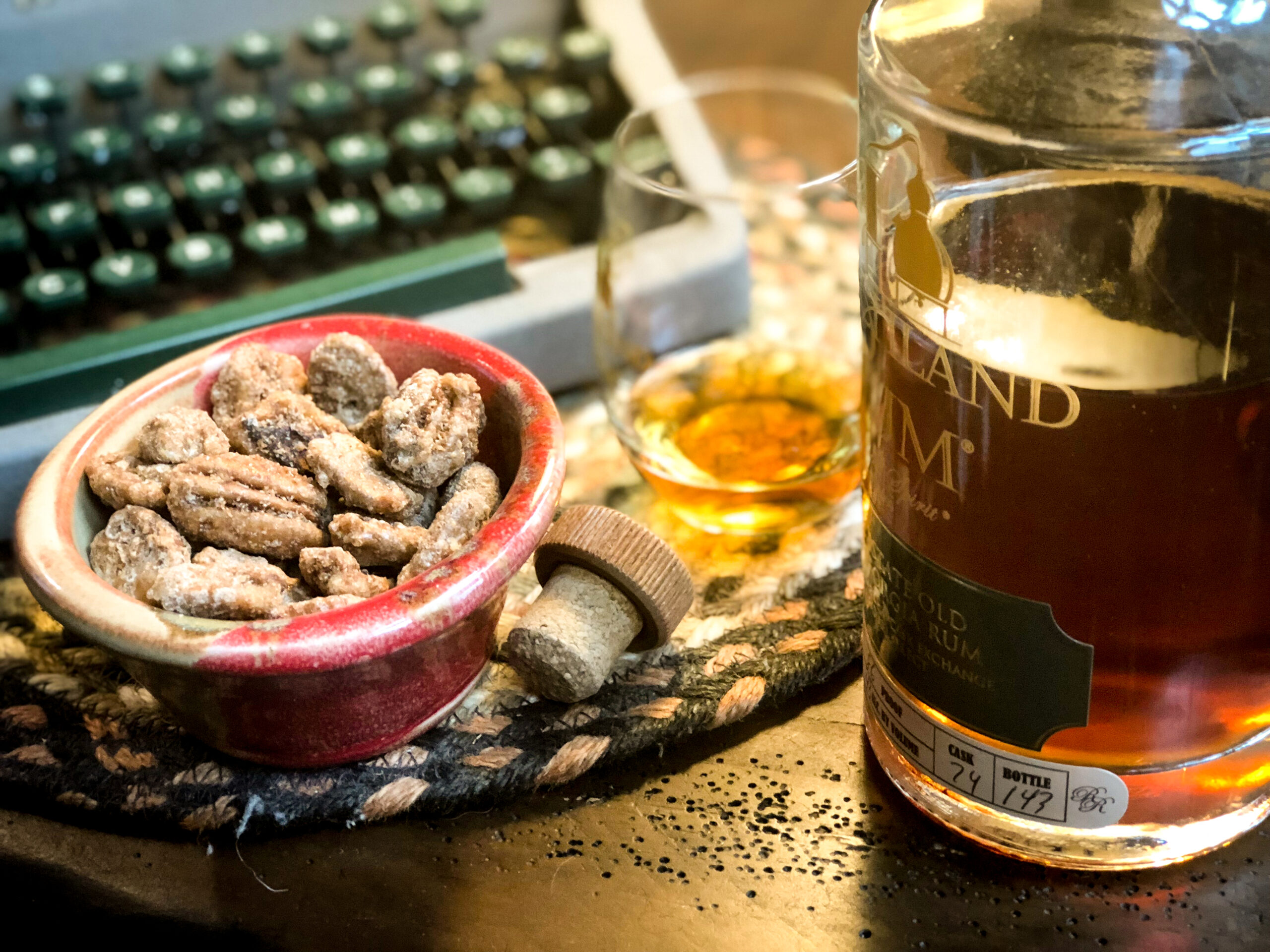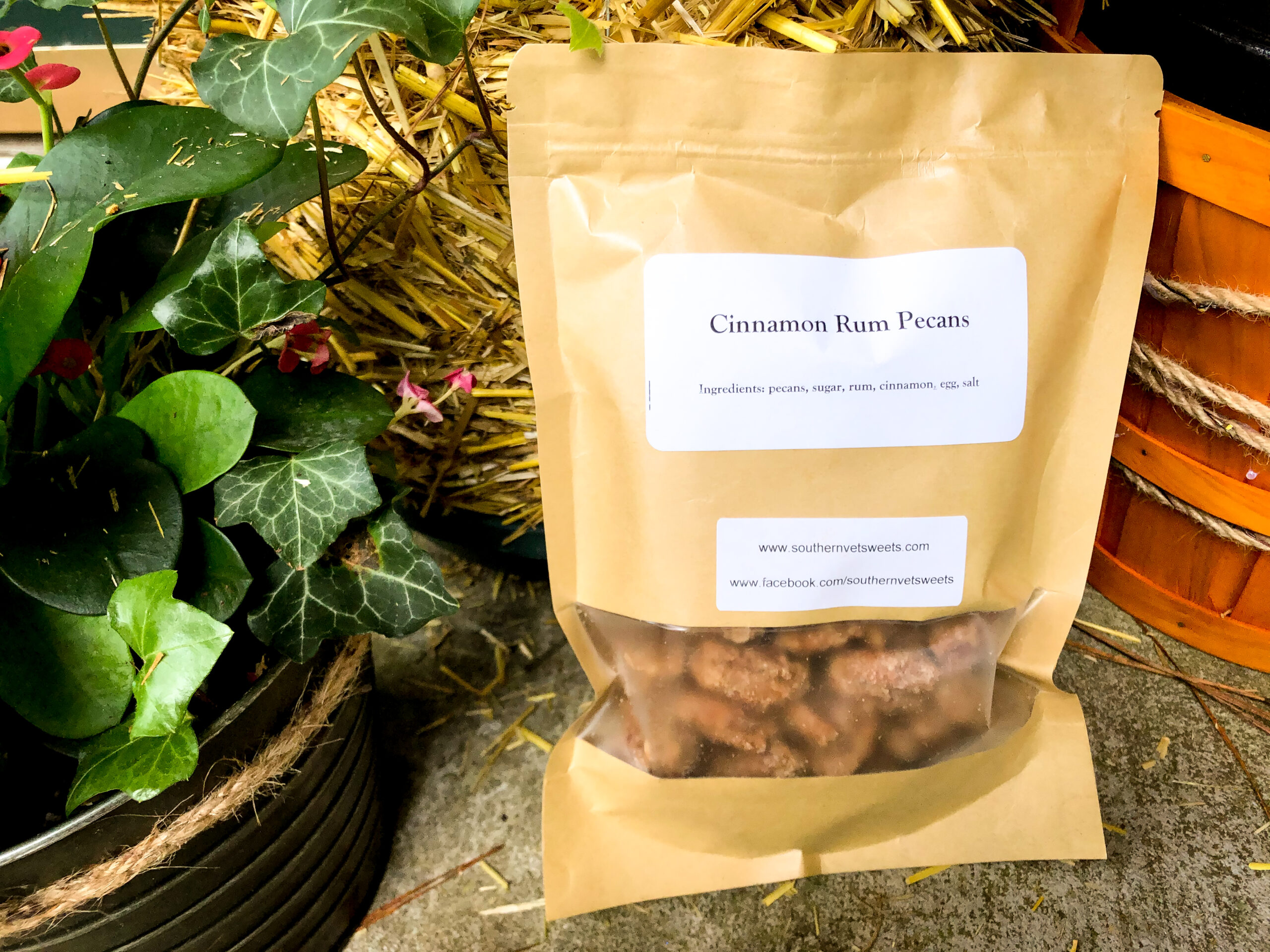 Jason prides himself on making the best and freshest products possible. He has a policy of making and shipping orders on the same day, guaranteeing that they will arrive as fresh as humanly possible to your door. If you order on Monday, he will make and ship on Tuesday. No matter how much the business grows, he plans on staying true to this dedication for quality and authenticity. 
SouthernVet Sweets has quickly gained notoriety around Atlanta and other parts of South Georgia, but Jason hasn't always had a passion for sweets or for cooking, and his inspiration was actually the result of a frightening bit of fate. After graduating high school in Monroe (GA) Jason joined the military, completed basic training, and soon thereafter was stationed in Germany. He was med-boarded in 2004 and shortly thereafter started doing heavy equipment operation until August of 2019. While on a job site, Jason's leg was severely injured and required numerous surgeries and rehabilitations, but thankfully he was able to make a full recovery. While in rehab, his wife, Holly, asked if he would try and make some cinnamon pecans like they had tried at a Georgia Tech Football Game eight years prior. Jason is always willing to take on a challenge, so he made a couple batches, which she loved, then he made a few more batches for other friends and family, which they loved, and pretty soon he was getting requests nearly everyday with people even offering to pay…the rest is history as they say. 
More than his passion for cooking up delicious sweets, Jason is a people person, and that has been clear enough from the moment we met him both in Richland and Brunswick. Jason's Richland Rum Cinnamon Pecans are delicious, as are all his creations, but it is his passion for helping people that shines through the most. This passion for helping others is why portions of SouthernVet Sweets purchases go towards helping three different charities and organizations that Jason works with. The first group , "Healing 4 Heroes" is actually the one he received his own service dog, Layla, from back in 2018. Jason calls Layla one of the best things that has ever happened to him and knows the value of the companionship that service dogs can provide to their owners. The second group, "Cocos Cupboard", is a non-profit that rescues abandoned, abused, and shelter animals. The third group is "Hard Luck Automotive" and is actually run by one of Jason's friends who is also a veteran in Oklahoma City. 
When you meet him, it becomes clear that Jason's reasons for starting SouthernVet Sweets goes well beyond profit motives or even a passion for sweets (although he admits he does enjoy his own treats, his favorite being the Cinnamon Rum Pecans and the Bourbon Pecans are a close second). He is a people person, and his business is a way to meet new folks, try new things, make new treats, and gain new experiences. When Jason isn't dialing up new recipes, you could probably catch him at a Georgia Tech football game, although he most enjoys spending time in the backyard with his wife Holly, and their son Sébastien, and of course Layla. Jason can also be found at a number of local farmer's markets and festivals in the South Atlanta area. He will be at the Loganville Autumn Festival on October 17th, 2020 and has plans to attend a few others later in the year. Of course, you can always find him online either at the SouthernVet Sweets Website or Facebook Page (see below). With the holiday season approaching, it would be a good idea to reach out now and pre-order some sweet treats for the winter months!
We are so appreciative to have a number of kind and generous people that reach out to us, and Jason is certainly one of those. We look forward to more of his delicious recipes using Richland Rum, but even more we look forward to the great service that Jason provides along the way. 
Cheers!
https://www.facebook.com/SouthernVetSweets
https://www.southernvetsweets.com/product-page/cinnamon-rum-pecans